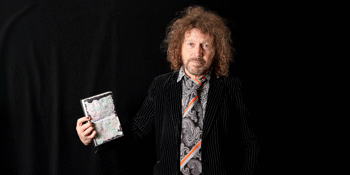 KIM SALMON
Mojo's Bar (North Fremantle, WA)
Friday, 19 February 2021 8:00 pm
As you may know Perth's prodigal Punk son Kim Salmon has had bands stationed at the ready all over the globe! But what good is that in a pandemic when you can't go places?
Well….. the State borders are coming down little by little and the restrictions are getting less and less.
Come February you can see Kim with his Perth bro's Todd Pickett and Pete Stone.
Yes, Kim is coming 'down to Perth' from his perpetual Far Eastern state!
But seriously, while its going to be a while before international acts come to Perth, or anywhere in Australia, maybe coming from way over east is the next best thing when it comes to seeing something you can't see any night of the week.
And its not like Kim's mean treatment for Perth is all he has to offer.
He's a 2 time inductee into the WA Hall of Fame – for himself and for the Scientists,
He's just released a new album from The Surrealists – Rantings From The Book Of Swamp. He did 2 singles on his own last year and The Scientists are waiting to drop an entirely new album from US label In The Red early in the new year!
As well as that there is, of course, the new Pandemic inspired repertoire. He tried his hardest NOT to be affected by the virus but in the end he succumbed! Expect a couple of new virus songs, but with the Salmon twist (he was already decades ahead of this game with the Beasts song 'There's a Virus Going Round').
And of course there's his 'old stuff'. You know? The stuff you really wanna hear.
Well…indulge him and he'll certainly indulge you!