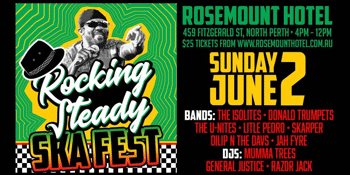 ROCKING STEADY SKA FEST!
Featuring The Isolates, Donald Trumpets, Mumma Trees, Jah Fyre plus more
Rosemount Hotel (North Perth, WA)
Sunday, 2 June 2019 4:00 pm
This WA Day long weekend we are getting ready to SKA!

With 7 live bands showcasing the very best of :

COOL ROCKSTEADY
BOSS REGGAE
TWO TONE
TROJAN
SCORCHING SKA!!!

Going right back to the early 60's Jamaican roots of ska from legendary bands like the skatalites,and artists like Prince Buster, through to some of the sweetest rocksteady from vocal harmony groups such as the Heptones and artists such as Alton Ellis and Desmond Dekker, through to roots reggae and UK Two Tone.