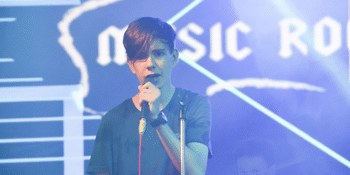 Music Rocks Australia, Kwik Kopy Canning Vale & Cool Perth Nights present
Music Rocks the Rosemount
Rosemount Hotel (North Perth, WA)
Sat 6 - Sun 7 April 2019 10:45 am
Music Rocks the Rosemount will see Music Rocks Australia return to one of Perth's favourite stages at the Rosemount Hotel for their first show of 2019, showcasing more than 500 young musicians with 93 bands in the Music Rocks Australia Ensemble and Individual programs on stage for more than 16 hours of music over two big days.

'Music Rocks' brings the Western Australian community together with performances from the most elite young musicians in MRA All-star bands, primary schools, high schools, education support centres and community organisations. Young people living out their Rock Star dreams on stage in front of family, friends and the most amazed and inspired public!

Performances will include those for WACE and WASSA certificates recognition for high school graduation, along with triumph for those supported by some of the biggest organisations in W.A. So many musicians will perform for the very first time with musicians as young as 5 years old achieving full Pop and Rock songs of their choice, swapping instruments between repertoire and showcasing the rapid and authentic power of the MRA teaching systems, unique to W.A. and supported by the famous MRA Ensemble Directors.

A not to be missed event for anyone close to an MRA musician and especially for anyone who is set to be amazed by the most courageous young people in W.A. – there is never a dry eye for what will be yet another series of sold out shows.

The Session schedule is as follows:

Saturday 6th of April

Session 1 (Entry 10.45am, 11.00am Start)
Armadale Education Support Centre
Blue Door Band – Alty, Cramp, Donnison, Hyne, Skewes
Grace Austin
Koda Dailey
Pulse – Rapanaro, Cramp
Sam Donnison
SMP
Tija Edwards
Wednesday Allstars – Dickenson, Hanscomb, Lowe

Session 2 (Entry 12.40pm, 12.55pm Start)
Cannington Community Education Support Centre
Dianella Secondary College Education Support Centre
Hugo Hendrawan
John Tonkin College Education Support Centre
Queen of Apostles School
Ryan Thomas
Sam Noah

Session 3 (Entry 2.30pm, 2.45pm Start)
Jake Brown LaMer
Joondalup Education Support Centre
The Joondy Boys – Carmona, Cox, Dack, Fontana
Liam Dack
Sebastian Lyon
Taylor Brown
The Twisters – Bouwer, Pangiarella

Session 4 (Entry 4.20pm, 4.35pm Start)
Alessia Saraceni
Connie Chapman
Cyril Jackson Senior Campus Education Support Centre
Mary MacKillop Catholic Community Primary School
Mazenod College
Mikayla De Cotta
Mullaloo Beach Primary School
The Crackin' – Blanchard, Gleadell
West Coast Secondary Education Support Centre
Zoey Dekens

Sunday 7th of April

Session 5 (Entry 10.45am, 11.00am Start)
David Ranalli
Friday Allstars – Chitty, Doman, Grainger-Love, Pinel, Yeats with Geordi!
Gian Biares
Good Shepherd Catholic School
Gwynne Park Education Support Centre
Lathlain Primary School
Mikaela Powell
Monday Allstars – Whait, Clayton, Marazzato
Warnbro Community High School Education Support Centre
Workpower

Session 6 (Entry 12.45pm, 1.00pm Start)
Alex McDonaugh
Amy Throssell
Beaumaris Primary School
Beldon Education support Centre
Emma Hale
Girl From Mars – Palumbo, Stead
Intelife Gosnells
St Columba's Primary School
Tuesday Allstars – Delanty, Bonnett, Stead

Session 7 (Entry 2.45pm, 3.00pm Start)
Ian Le Sueur
Jack Harrison
Morley Senior High Sschool
Newman College
Sarah Pollard
Saturday Allstars – Berry, Hart, Pollard
Screaming Captain Jefferson – Le Goueff, Pola, Slabbert, Berry, Harrison
Sienna Durant
Thursday Allstars – Edmonds, Sylvestre, Tsirigotis, Le Sueur

*the session lists are in alphabetical order and do not indicate the order of bands within each session.