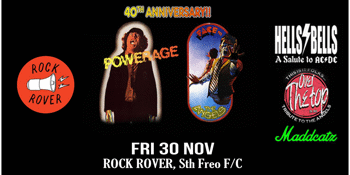 AC/DC & The Angels Classic Albums | 40th Anniversary Edition
Featuring Hells Bells, Over The Top & Maddcatz
Rock Rover (Fremantle, WA)
Friday, 30 November 2018 8:00 PM
Two of Perth's best tribute/salute bands, "Hells Bells - A Salute To AC/DC" and "Over The Top - Angels Tribute" along with young 3 piece original band Maddcatz join forces to Celebrate the 40th Anniversary of 2 Classic Albums by Legendary Aussie bands, AC/DC & The Angels at Rock Rover
Rock Rover kicks off as one the newest and most exciting venues in Bon Scott's home town of Fremantle that is already kicking goals with lovers of live music.
Both Powerage & Face to Face where released in 1978 and have gone on to become 2 of the most influential albums of all time!!
Hells Bells will play your favorites from Powerage along with the best of ACDC over the years.
Maddcatz will also add one or two classic accadacca songs in their original set.
Over The Top will cover the full Face To Face album as well as a few other Angels classics.
Doors open at 8pm with Maddcatz kicking of at 8.30pm
Tickets are $20 pre-sale from the venue and Oztix and $25 at the door. Located at South Fremantle Football Clubhouse.