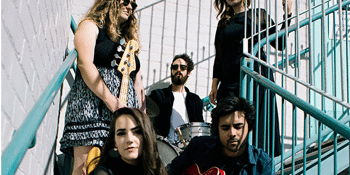 AMY AMY AMY *CANCELLED*
The Music of Amy Winehouse
Test Venue WA (Annerley, WA)
Friday, 14 June 2019 8:00 PM
The acclaimed Amy Winehouse tribute are back! 'Amy Amy Amy' returns to the Rosemount to deliver the ultimate Winehouse experience.
Since 2015 the band 'Amy Amy Amy' have sold out every show across Perth from The Ellington Jazz Club, Jimmy's Den, The Rosemount Hotel to Bar Pops 'Urban Orchard' festival - bringing you your favourite tracks from albums 'Frank' (2003) and 'Back to Black' (2006), 'Lioness: Hidden Treasures' (2011) and numerous rare b-sides.
'Amy Amy Amy' is a celebration of the late musical legend. Equipped with the entertaining horns section and stunning backing vocalists, the 9 piece will take the stage by storm, July 15th at The Rosemount Perth.
"That was amazing. What a singer, and the musicians were equally amazing. Impressed."
"Thank-you for an amazing show! You are all so talented!"