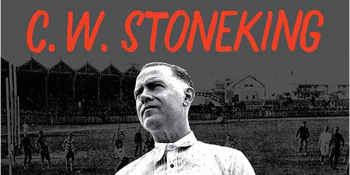 Going Solo presents
C.W. Stoneking | Abbe May | Carla Geneve
Rock Rover (Fremantle, WA)
Friday, 21 September 2018 7:00 pm
SURPRISE! Fremantle's new home of world class live music welcomes the king of jungle, the one and only CW Stoneking, on Friday September 21. We've gone boogaloo many times with the mysterious travelling bluesman and we're beyond thrilled to add CW Stoneking to the already bonkers lineup of Abbe May and Carla Geneve.
Rock Rover is the type of live music venue that could only happen in Fremantle. A collaboration between local culture creators (and the people behind Mojo's bar) Cool Perth Nights and the grassroots legends at South Fremantle Football Club, Rock Rover is exactly like the football position its named after. A rover changes direction fast. A rover is unpredictable. A rover is charming despite its muddy knees. A rover knows how to party.
C.W. Stoneking is the embodiment of what some would say is a bygone era of music. From his rasping jungle-rock-blues, to his well-oiled locks, and his familiar all white clothing ensemble, he has converted fans across the world to his unique style. A first generation Australian of American-descent, C.W. Stoneking was born in the top end of Australia's Northern Territory and spent his childhood growing up in Central Australia, Sydney and rural Victoria. He has travelled the world from Egypt to New Orleans (where he worked as a hoodoo doctor's assistant) to Trinidad, where he learned about Calypso music. He has lived in isolated farmhouses working as a handyman, and been involved in and survived a shipwreck, spending time in Africa, and touring internationally as a recording artist.
Abbe May continues to surprise, delight and terrify as one of Perth's most chameleonic artists. Will she play her electronic psych masterpieces? Will she howl and moan as a blues rock god? Somewhere in between? Who bloody knows. All we know is it will be good.
Carla Geneve channels May's 'who gives a F' attitude into a delightfully ragged indie rock melange. Geneve has many important things to say and says them with an incredibly intoxicating grit.