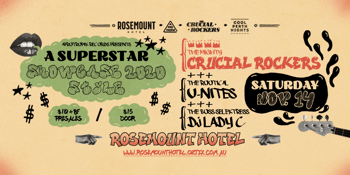 Cool Perth Nights & Afrotropik Records
Skanks a lot. FEAT. Crucial Rockers, Unites PLUS Special Guest Reggae DJs
Dancers, legends, you.
Rosemount Hotel (North Perth, WA)
Saturday, 14 November 2020 8:00 pm
Saturday November 14, it's a live reggae party. The best one in town. WA's best reggae bands team up for a huge night of skanking goodness. Crucial Rockers FEAT Grace Barbe among other absolute musical weapons and the dangerously fantastic Unites will be performing for you PLUS look out for our Special Guest Reggae DJ announcement. Tickets are $10+BF from rosemounthotel.com.au and $15 at the door on the night from 8pm.