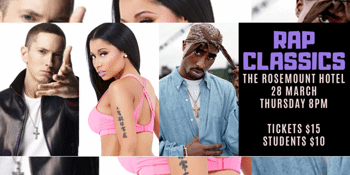 Rap Classics with full live band!
Rosemount Hotel (North Perth, WA)
Thursday, 28 March 2019 7:30 pm
Join Mary-Anne Jay, Nick Pontin and their kickass live band! After multiple sold out hip hop shows in 2018. They will bust rhymes from the best rap and hip hop artists ever to hit the music industry! Eminem, Missy Elliot, Eve, Tupac, 50 Cent, Cardi B, Lauryn Hill, Snoop Dogg, Nicki Minaj, Kanye West and heaps more. A massive show and night out not to be missed!