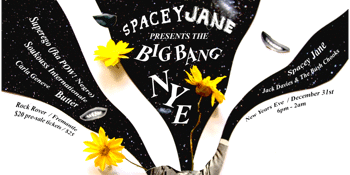 SPACEY JANE presents
THE BIG BANG NYE
Featuring SuperEgo FKA POW! Negro, Spacey Jane, Carla Geneve, Soukouss Internationale, Jack Davies & the Bush Chooks, Butter
Rock Rover (Fremantle, WA)
Monday, 31 December 2018 6:00 PM
Monday December 31 - Spacey Jane are very proud to present The Big Bang, an explosive NYE gathering of the next wave of West Australian Music.
They'll be taking over the Rock Rover main room, alongside a lineup full of stars anyone would gaze at, any night of the year.
Superego FKA POW Negro - iconic beats, bars and energy of galactic proportions
Carla Geneve - absolute comet of a songwriter, only comes about every 76 years or so
Soukouss Internationale - the certified Aurora Borealis of the dance floor
Jack Davies & the Bush Chooks - proof that man really did land on the Moon
Butter - low-slung grooves smoother than the top end of a NASA rocket
It's been quite a huge 2018, meteoric you might even say. Cap it off with the company of good tunes and good times in the heart of Freo, with a huge dance floor to boot.