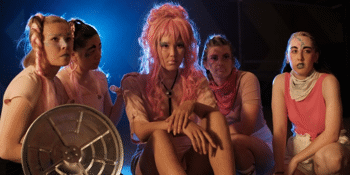 Pop Detective Records presents
The Stanleys & Command A Panda Double Single Launch
with I Call Val & Sad Hour
Four5Nine Bar (North Perth, WA)
Saturday, 13 April 2019 8:00 pm
Making their live debut in Los Angeles in July 2011, local power popsters
The Stanleys have notched up hundreds of gigs around the globe including locales in the USA, Canada, UK, Spain, Italy, Germany, Norway, Sweden, Finland, Estonia, Latvia, Lithunania, Japan, China and Australia playing festivals, crazy college frat parties, Chinese Hutongs and plenty of sweaty clubs around the world.

Their long-awaited debut album took the power pop world by storm receiving much critical acclaim being named in dozens of music journalist and radio DJs' Top Albums of 2017. Most recently Californian pop music guru John M Borack, in his power-pop bible, ranked the album at No. 92, *Shake Some Action 2: 200 Greatest Power Pop Albums 1970-2017*.

With the help of local music video director, Johnny Ma, in their new music
video, 'Everybody Dance' The Stanleys may also have invented a new sport: hoverboard jousting! Think Roller Derby but a hell of a lot more visually entertaining and fun!!

Philosopher Stoned is the latest release from the Perth hard rock duo,
Command A Panda. Known for their good time live antics, the guys took some time away from gigs spent the summer recording with longtime friend and sound engineer Stuart Vanderplank.

In the words of frontman Matt Hort, 'the song is about the insecurities
that can develop from over thinking. This is definately a personal song for
me as its filled with different moments in my life and what I went through
mentally to become the person I am today. And I feel like everyone at one
point or another in their life has been through something similar'.

Also in toe are fabulous high-energy pop/rockers I Call Val and brit
popsters Sad Hour!!