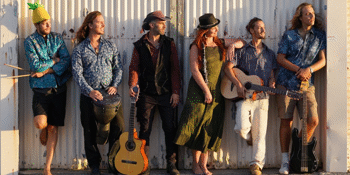 The Witchy Djypsies
Sonar Room (Fremantle, WA)
Friday, 29 January 2021 7:30 PM
Since their transition from van dwelling travelers to the stages of Fremantle, the Witchy Djypsies have build a reputation in Fremantle and the Southwest as a live dancefloor sensation. Their radical blend of gypsy jazz, ska, punk, and world fusion has gained them bookings at Fairbridge Festival and the Karridale Circus Festival. Their debut album 'Gypsyland' was recorded at Fremantle's iconic Poon's head studio and released in early 2020 just as COVID-19 bought about a temporary halt.
The band was not idle during the lockdown, however, writing a further 2 E.P.s worth of new music to be recorded and released by mid-2021.
The increasing hype for the band's show was proven when despite not playing for 6 months their return show at the Fremantle Fibonacci Centre sold out on presale tickets alone.
Now as the band's 'Out of Woods' show hits the road for summer they are aiming to fulfill that demand, Anywhere people have the desire to dance!