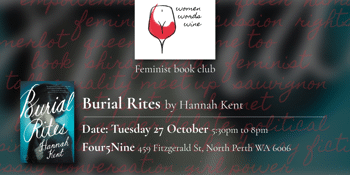 Cool Perth Nights and Women Words Wine present
Book Club - Burial Rites | Women Words Wine
Free entry (book a spot in advance)
Four5Nine Bar (North Perth, WA)
Tuesday, 27 October 2020 5:30 pm
Do you want to read between the wines to elevate the debate? Women Words Wine is about initiating substantial discussions about the place of women in society, history and the arts. We also provide a wine list to loosen tongues and ideas.
The Book
"To know what a person has done, and to know who a person is, are very different things."
In northern Iceland, 1829, Agnes Magnúsdóttir is condemned to death for her part in the brutal murder of two men. Agnes is sent to wait out the time leading to her execution on the farm of District Officer Jón Jónsson, his wife and their two daughters. Horrified to have a convicted murderess in their midst, the family avoids speaking with Agnes.
Based on a true story, Burial Rites is a deeply moving novel about personal freedom: who we are seen to be versus who we believe ourselves to be, and the ways in which we will risk everything for love.
Program of the evening
5:30pm - Happy hour to meet your new friends and loosening up.
6pm - Beginning of the book club.
You can keep your glass of wine if you want.
Book your free spot now via: https://www.womenwordswine.com/#events