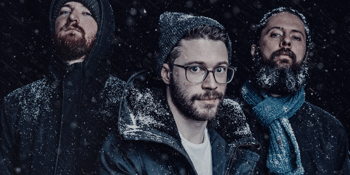 sleepmakeswaves 'these are not your dreams' tour 2021 with special guests Rolo Tomassi (UK)
Bird's Robe & Niche
Rosemount Hotel (North Perth, WA)
Saturday, 17 April 2021 8:00 pm
sleepmakeswaves reschedule 'these are not your dreams' Australian tour to 2021
Australian instrumental post-rockers sleepmakeswaves have announced their 'these are not your dreams' Australian tour will be rescheduled for 2021, due to the ongoing COVID-19 pandemic.
The band released a statement to fans, saying:
Hey everyone,
Our hearts go out to all of you sharing in the anxiety and disruption caused by the outbreak of COVI-19 worldwide. Having been fortunate enough to travel widely over the years, we send big love not only to our Australian fans, but also our friends in Asia, NZ, greater Europe and America. SMW and our team are all doing our best to remain calm and rational while also taking the pandemic seriously.
An unfortunate consequence of this is that we cannot proceed with our Australian tour this year. It's not only that the Australian Government directives render events unfeasible – we also believe that it's our duty to minimise community transmission of the virus in Australia. Our hearts are heavy making this call, but we firmly believe it's the right thing to do.
We have been able to reschedule the dates for April 2021 and we're very pleased that ROLO TOMASSI have agreed to stay on the lineup. We're also happy that the new dates have aligned in such a way for them to join us in Adelaide & Perth as well as the originally planned Brisbane, Melbourne & Sydney shows. Furthermore, we've also added a new show in Newcastle which will kick off our first headline tour of Australia in 3 years (by the time this tour rolls around!).
Any tickets purchased for the original dates will be valid for the new dates and refunds if required will be available from the relevant ticket outlets.
We also need to push back the release date of the EP trilogy to July 17, as some of this music was yet to be produced when the virus restrictions were imposed. Otto returned from London in March to a 2-week stint in quarantine and since then we've been working remotely to best comply with self isolation advice.
We're very happy to share with you the new EP 'Out of Hours' very soon, as well as the full record when it comes out in July.
The 'No Safe Place' EP is now streaming online in full at
www.sleepmakeswaves.bandcamp.com
The economic impacts of this pandemic are vast. For musicians specifically, the cancellation of live shows is a necessary measure that puts the main income stream of any independent band on ice. This also has flow on effects to the live music economy, as we are just one of a number of bands that can no longer provide work this year to our tour manager, live mix engineer, guitar techs, light operator, backline/production spec providers, etc. You get the picture.
If you want to support bands and artists, Bandcamp is waiving their merchant fee for 24 hours from 6pm Sydney time (12am PST and 7am GMT) on Friday 1st May, Friday 5 June and Friday 3 July. So please hop online and do your buying there.
If you want to support the wider industry, please make a donation to
www.supportact.org.au
or buy our tour manager's RIP Live Music 2020 t-shirt at
www.imprintmerch.com.au/pages/backstage-darling
It's taken a virus to remind us that we are all human and that we have to work together. We encourage you to find that part of yourself that can stay cool under pressure while not ignoring or dismissing the gravity of the situation we are in. If you are in a position to stay home, please do so for the sake of minimizing transmission in the community. But don't forget that 'social distancing' does not mean social isolation. Reach out to your friends and family, so we can all be resilient as a community.
Cheers,
Alex, Otto & Tim
Once the band hit the road again in 2021, the 'these are not your dreams' shows will feature new music from their recently announced EP trilogy of the same name.
The band will visit Newcastle, Canberra, Adelaide, Perth, Brisbane, Melbourne & Sydney, playing new material and rare older tracks – as well as some classic sleepmakeswaves bangers.
UK math-rock luminaries ROLO TOMASSI will join as main support for all shows except Newcastle & Canberra, following their latest release 'Time Will Die and Love Will Bury It.' They last toured Australia four years ago in 2016.
sleepmakeswaves's new music comes three years since their ARIA-nominated 2017 release 'Made of Breath Only' and their well regarded cover of 'Children' by Robert Miles recorded for triple j's Like A Version the same year. In 2018/19 the band released a Metallica tribute 'To Live Is Not To Die' and took a break from writing for a tour across Australia & Europe celebrating the band's 10th anniversary.
The new record, titled 'these are not your dreams' will be released on 17 July 2020.
Rather than following a conventional release pattern, new songs will be released as a series of 3 EPs over the next few months, with 'No Safe Place' out now, 'Out of Hours' released on June 5 and 'Not an Exit' released July 3.
The first single 'Cascades' debuted on triple j's Home & Hosed in January, with a second track 'the endings that we write' premiering on triple j's The Racket in February.
The band announced the news to fans with a typically quirky video
online here
and have added more about the shows below:
We're pretty psyched about doing these upcoming headline shows. I know bands always say things like that (we've said it a lot) but with a long break since we were last playing gigs, it feels very exciting to crank up the ol' rock-o-matic 3000 once more.
Rolo Tomassi are, as we like to say, "heaps sick" and we think overwrought instru-prog x blackened art-hXc is going to be a winning combination. Stay tuned for some great local supports on each of the shows as well.

Hooroo,
Alex and smw
From Rolo Tomassi:
"We're delighted to return to Australia for the first time in years. It's always been a firm favourite for our band and we're very grateful to sleepmakeswaves for extending an invite to us.
sleepmakeswaves
'these are not your dreams' Australian tour 2020
w/special guests Rolo Tomassi (UK)*
Fri 9 April – Small Ballroom, Newcastle NSW
Sat 10 April – The Basement, Canberra ACT
Fri 16 April – Lion Arts Factory, Adelaide SA*
Sat 17 April – Rosemount Hotel, Perth WA*
Thu 22 April – The Triffid, Brisbane QLD*
Fri 23 April – Max Watts, Melbourne VIC*
Sat 24 April – Manning Bar, Sydney NSW*
Presented by Bird's Robe & Niche Talent Agency
Tickets on sale from sleepmakeswaves.com & venue websites
'these are not your dreams' full record released 17 July 2020 via Bird's Robe/MGM
No Safe Place EP – out now
Out of Hours EP – releases Fri 5 June
Not an Exit EP – releases Fri 10 July 2020
Media: Mike Solo // Bird's Robe Records //
birdsrobe@gmail.com
SLEEPMAKESWAVES // LISTEN & WATCH
'Cascades' & 'the endings that we write' streaming online at
www.sleepmakeswaves.bandcamp.com
Watch 'Great Northern'
https://www.youtube.com/watch?v=YZl0Vr7mgeY
Watch 'Something Like Avalanches' (live)
https://www.youtube.com/watch?v=CJ2T9KlncfI
Watch 'The Stars Are Stigmata' (live)
https://www.youtube.com/watch?v=iGvznRV6gy8
Watch 'To Live Is To Die' (Metallica)
https://www.youtube.com/watch?v=ektGmfe1wwM
Watch 'Children' (Robert Miles)
https://www.youtube.com/watch?v=De8I6O1VfAg
Listen to 'Midnight Sun':
https://youtu.be/JG2a9hAn-SY
ROLO TOMASSI // LISTEN/WATCH
Rituals -
https://www.youtube.com/watch?v=HhcF-3wBlEw
Aftermath -
https://www.youtube.com/watch?v=lSQYs8KancA