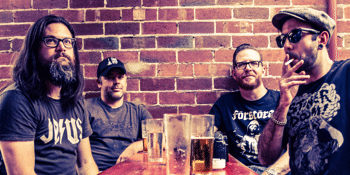 'The Last Ride' | The Devil Rides Out Farewell Show
With special guests TBA
Rosemount Hotel (North Perth, WA)
Friday, 3 August 2018 8:00 PM
It's been a long, strange trip. 12 years of big beards and bigger riffs, damaged ears and spilt beers. It's time to call last drinks. One final ride into the cool desert night. One last chance to dance with The Devil in the pale moonlight.
On Saturday August 3rd, 2018, THE DEVIL RIDES OUT will perform their last ever show. A mammoth, career-spanning set covering Volume I right through to Ugly Creatures, and all hangovers in-between. Since their debut on the 6th of the 6th 2006, The Devil have birthed no less than five releases, won a WAMi Award in 2009 for Best Metal / Hard Rock Artist, supported iconic local acts Tumbleweed, Shihad and Cosmic Psychos, backed up heavyweight internationals such as Clutch, The Melvins and Monster Magnet, toured nationally with epic stoner giants Sleep, and crushed several of their own laps around the country including appearances at the Doomsday Festival in Sydney, Devil's Kitchen Festival in Melbourne and Brewtality Festival in both.
All bad things must come to an end though - but saying adios just wouldn't be right without original drummer Royce Uyen in the engine room. The good news is that The Punisher is back! And ready blast you with a double kick enema one more time. Royce joins guitar demon Andrew Ewing (Thumb), low-end monster Scott Paterson and frontman Joey K, who has announced his retirement from performing following this show after 30 odd years out front of some of Perth's biggest heavy acts. It's the end of an era. It's gonna get emotional. And very, very loud.
It all goes down at the band's spiritual home, the Rosemount Hotel. A killer line-up of special guests will be announced soon.